Everyone loves a good story. Yet when it comes to digital marketing, advertisers tend to lead with a "buy now" message, linking to a product page or mobile-app download right away. Is this the most effective strategy for direct-marketing campaigns? Or, in some cases, would a blend of storytelling and call to action encourage consumers to act in greater numbers?
Building your social media campaigns around stories helps you stand out from competition, and rivet the attention of your prospective customers.
In this article you'll discover key elements that allow you to become a breakthrough storyteller. Techniques mentioned in this post allowed 100+ small and previously unknown startups achieve rapid growth in a matter of weeks and leap light years ahead of their competition, with minimal marketing budget.
Use a proven framework
Freytag's pyramid is a powerful storytelling framework used in a variety of creative works from Aesop's Fables to Shakespeare's plays.
This structure splits the story into five narrative arcs, evoking various emotional reactions from your audience. These arcs include the inciting moment, the complication or rising action, the climax (or turning point), the reversal or falling action and the moment of release.
In your storytelling you can follow the steps in Freytag's pyramid or use them in parts, but the approach helps you make an emotional connection with your consumers.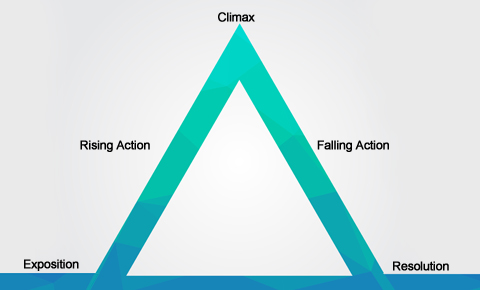 Sequence Your Ads to Create Stories
According to the recently published The Power of Storytelling from Facebook IQ, online storytelling on social media can have a direct impact on in-store purchases.
As an experiment, Refinery29 tested Facebook ads that were sequenced like stories. Overall, the experiment yielded a 56% conversion lift and an 87% rise in view-throughs. Refinery29 also saw a 7% increase in in-store purchases and a 10% increase in online purchases.
How to Become a Breakthrough Storyteller?
This succinct infographic will help you to discover how to tell powerful stories that will rivet people to your message and allow you to influence their buying decisions.
Here's what to do next:
SHARE this article with 1-3 people that will benefit from knowing how to tell stories to bring their business to the next level.